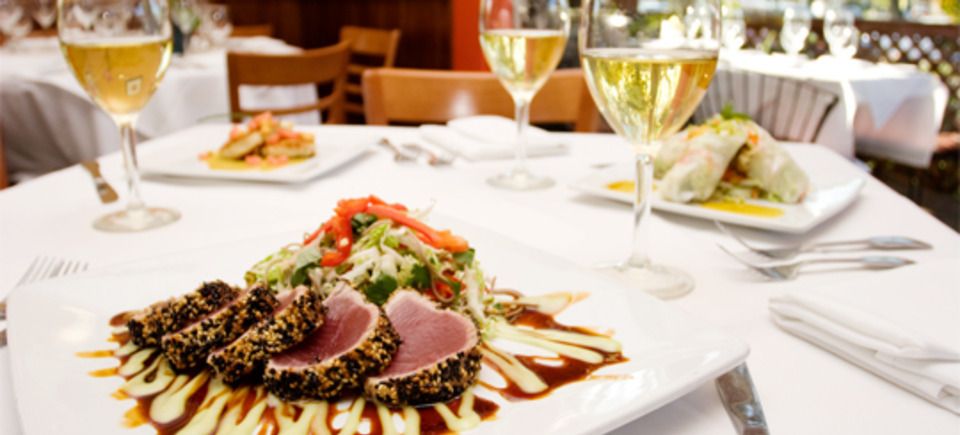 Dinner
Appetizers
Steamers
Clams, Mussels or both in a white wine butter sauce
21.
Tuna Tartar
with a ponzu vinaigrette, avocado, crispy garlic chips & micro greens, served with wonton chips 
19.
Duck Confit Tacos
roasted tomato-tomatillo salsa, avocado, cilantro, marinated radish & red onions, cotija cheese
19.
Cauliflower Tempura
with a peanut curry sauce, and a napa slaw spicy miso dressing
16.
Spring Rolls
shrimp, cilantro, avocado, mint, basil, napa cabbage, green onions, and a mango puree dipping sauce.
18.
Bruschetta
Italian garlic bread topped with goat cheese, chopped Roma tomatoes, basil, garlic, and olive oil.
16.
Hummus and Pita
A chickpea puree with an assortment of spices, garlic and lemon.
11.
Starter Salads
Mixed Greens
Local organic mixed greens, tomato, carrots, onion, jicama, lemon basil vinaigrette
11.
Caesar
Fresh Carpinteria grown organic romaine, croutons, fresh grated parmesan, and Caesar dressing.
13.
Baby Spinach
bacon, gorgonzola, dried apricot, candied pecans, & red onion in a raspberry vinaigrette
15.
Roasted Beet & Grilled Pear Salad
prosciutto, goat cheese, red onion, arugula, and balsamic reduction
16.
Little Gem
Warm bacon, mushroom, and gorgonzola dressing
17.
Entrée Salads
Steak Salad
Over hearts of romaine, mushrooms, warm bacon gorgonzola dressing
29.
Cobb
Chopped lettuce, chicken, avocado, egg, tomato, jicama, red onion, olives, feta, and toasted pumpkin seeds in a lemon basil dressing.
19.
The Oriental
Spinach, napa cabbage, noodle cake, mangos, green onions, soy nuts, sesame seeds, with a spicy miso dressing.
Roasted Vegetable
Eggplant, zucchini, red bell pepper, carrot, red onion, goat cheese, organic greens with a lemon basil vinaigrette.
18.
Caesar
Organic Carpinteria grown romaine, croutons, fresh grated parmesan with Caesar dressing.
15.
Seafood
Sesame Crusted Ahi
Seared rare with a soy glaze and wasabi sauce over a soba noodle salad with a ponzu vinaigrette.
33.
 Salmon
Maple glazed, bacon butter, roasted sweet potato, brussel sprouts, and sauteed spinach
31.
Cioppino
Italian stew with mussels, clams, shrimp, scallops, fresh fish, and a spicy tomato sauce.
32.
Ahi Nicoise Salad
Grilled rare Ahi, marinated green beans, capers, olives, potato, egg, onion and tomato.
33.
Seafood Tostada
Shrimp and scallops with black beans, jack cheese, guacamole, salsa, cilantro cream and slaw.
27.
Meats
Rib Eye Steak
Bordelaise sauce, marrow butter, served with mashed potatoes, and market vegetables

 
48.
Chicken Saltimbocca
Organic chicken stuffed with prosciutto, sage fontina cheese and a mushroom marsala sauce
 
30.
Turkey Mushroom Meatloaf
Served with homemade mushroom herb gravy, mashed Yukon gold potatoes, and seasonal vegetables.
26.
Sirloin or Turkey Burger
Lettuce, tomato, onion, aioli, and pickles, served with rosemary potato wedges.
19.
Vegetarian
Zookers Eggplant Parmesan
Cornmeal crusted eggplant, artichoke heart, olive, spinach, tomato basil sauce, topped with parmesan and feta cheese
20.
Tofu Saute
Sautéd mushrooms, onions, zucchini, chilis, tomato, spinach, and cheese, served with brown rice.
20.
Stuffed Poblano Chili
Black beans, brown rice, mango, cilantro, tomato, almonds, red onion, cotija & jack cheese topped with pico de gallo, guacamole, and red chili cream sauce
20.
Pastas
Linguine Carbonara
Shrimp, Bacon and Peas
 
29.
Fettucini
Beef tenderloin tip, shitake and oyster mushrooms in a gorgonzola cream sauce
29.
Seafood Pasta
mussels, clams, fish, shrimp, and scallops in a lemon caper wine sauce.
31.